The Autus suite is a powerful in-vehicle infotainment system (IVI) that delivers information for auto sensors, entertainment content, navigation and more.
Drive safe & enjoy the ride
The infotainment system links drivers to their vehicles giving them intuitive and visual ways to control their driving experience and in-vehicle environment. It keeps them and their passengers safe, connected and entertained by delivering information and content from the car's sensors and multimedia sources.
Our integrated infotainment systems include:
Safety sensor information
Live or parking cameras
Multimedia from local sources or streaming services
GPS navigation
Phone calls 
Voice messaging
Rich internet content built on modern frameworks
Display Data in an Instant
In-vehicle infotainment systems tackle many tasks, including 2D & 3D rendering of the environment, obstacles and conditions around the automobile. They manage and play audio content, plus stream movies, games, social networks and more back-seat entertainment.
The IVI system also displays navigation and sensor data. In addition, it makes phone calls and accesses Internet and smartphone-enabled content like traffic and weather updates.
All this information, including sensor data, must be quickly rendered on in-vehicle displays so drivers can make effective decisions in an instant.

The expanding functionality of infotainment systems also increases the need for platforms that support smooth, reliable user experiences. By pairing high-powered 2D and 3D technologies with power-efficient processors, MediaTek designs solutions that deliver premium performance inside and outside the vehicle.
Integrated platforms
Superior solutions that fit your needs
Our infotainment systems meet automaker's and auto supplier's requirements for high levels of integration, comprehensive multimedia packages, premium features and full connectivity. They also address the needs of today's drivers.
MediaTek IVI
MediaTek IVI products are high-performance 2D/3D processing platforms that focus on efficiency, speed and reliability. They feature comprehensive connectivity and interfaces, plus a high level of platform integration. The scalability of MediaTek's IVI technology lets partners select a platform that meets their specific needs.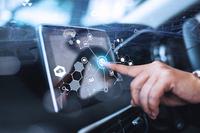 Expertise in Multimedia
Seeing is believing
MediaTek's IVI platform continues a long tradition of developing connected multimedia solutions and draws from our expertise as leaders in smart TV, tablet and DVD/Blu-Ray chip technology. We take compatible technologies from our home and smartphone products and tailor them to the modern automotive market.