A vision processor system that uses sensors and real-time data to increase driver safety.
The co-pilot every driver needs
Vision Advanced Driver Systems use imaging sensors to help drivers detect people and objects so they can make safe and effective driving decisions.
V-ADAS features include:
Parking assistance
Lane departure warnings
Collision avoidance systems
The MediaTek Advantage : Superior Vision Processors

Our versatile vision processing units (VPUs) can handle large amounts of real-time data, providing a high level of functionality with low power consumption. They also contain an automotive grade ISP with High Dynamic Range (HDR) processing capabilities.
Small & Efficient
MediaTek's decentralized VPU places some processing functions at the sensor, creating a small yet power-efficient central solution that's easy to manage, low risk, low power and low cost.
Modern Machine Learning
Our vision processor also employs machine learning that delivers an extremely high level of functionality. This enables lane detection, vehicle detection, pedestrian detection, motion analysis, multi-cam calibration and around-view monitoring.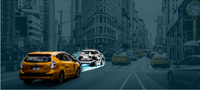 Our Roadmap to Success
MediaTek has a successful history in developing commercial communication and multimedia technologies for major brands. We have proven expertise delivering fast, power-efficient VPU packages and are well-positioned to meet auto manufacturer's needs with a long-term, full- featured roadmap of products designed for automated driving.